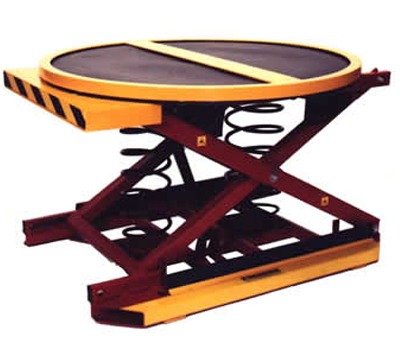 Pallet Pal
Pallet Pal is a very handy and easy to use power free automatic pallet leveler.
The platform with pallet rises and falls in reaction to the load placed on the platform.
As the load is removed - the platform rises.
This automatic pallet leveler works by reacting to the mass of the load - there are 3 springs fitted in 4 combinations for loads from 200-2000 kg.
The only thing that needs to be known is the height and weight of the fully loaded pallet.
Pallet Pal must be loaded and unloaded using a forklift truck, because when the load is lifted off, the platform rises to the full height automatically.
There is no way of holding the platform in the closed position.
Specifications:
2000 kgs safe working load
710 mm extended height
240 mm compressed height
160 kgs overall weight
360° access using built-in turntable
Built-in fork lift pockets for easy relocation
Clickon thumbnail for more info
Testimonials
"We worked with Richardsons on a large warehouse fit out and found them very professional, courteous and happy to go that extra mile. We highly recommend them as a great company to do business with."


Penny Sawford - RSG Group

"Just a quick line to thank you for the quick and efficient service provided by your company. It makes my job easier when I have someone with the product knowledge and expertise just a phone call away."


David Forbes - Mech Tool Engineering Ltd

"The lads that did the work are a credit to your company As they were very efficient and worked very hard throughout the day with no disruption to me. Great service and Value for Money"


Polygon Group Kevin Beddoe

"I have bought from Richardson many times now! Normally one specific coloured Lin Bin product. But nevertheless perfect products, and very pleasant staff at Richardsons"


Rick Cousins - Supplyrite Ltd

"We have used Richardson's on a number of occasions for our Steel Partitioning requirements/plans and I am happy to say that from order to delivery they have been spot on, even when we have made last minute changes."


Steve - Bartitions Design and Build Ltd

"Very friendly and responsive service"


Neil Angrave - London Borough of Barnet
© Richardsons Shelving 2010 - 2018. Richardsons Shelving is Registered in England.
Registered address: 6 Collingwood Court, Riverside Park, Middlesbrough, TS2 1RP.
See our privacy policy and terms and conditions.
Created by Edward Robertson web design with the Responsive Grid System